Accommodation Type
Student Accommodation
Purpose built student rooms with onsite teams, facilities and community.
Student Housing
Private or shared living in a house or apartment.
Young or Working Professional Housing
Co-Living, serviced apartments, hotels etc.
Room Type
Shared Room
Entire Place
Shared Flat
En-Suite
Studio
Single
Twin
Double
Flat
Penthouse
Triple
Quadruple
Facilities
24/7 Security + CCTV
Accessibility
Advice
Bed and Breakfast
Bills Included
Cleaning Service
Common Social Room
Communal Games Room
Emergency
Flexible Start Dates
Fully-Furnished
Insurance
Laundry
On-Site Cinema Room
On-Site Gym
On-Site Maintenance
On-Site Management
Parking
Pet Friendly
Secure Bike Storage
Storage Space
Under 18
Wi-Fi
Move In Date
Jan
Feb
Mar
Apr
May
Jun
Jul
Aug
Sep
Oct
Nov
Dec
Cancellation Policy
COVID-19 Cancellation Policy
No Visa No Pay
No Place No Pay
Student Accommodation in London
168 Accommodation Options
Recommended
Newest listings
Lowest Price
Highest Price
Closest to City Center
Are You Looking For a Private Accommodation?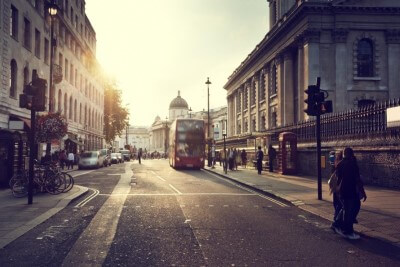 London Etymology - How did London get its name? 
Londinium is the original Latin name for London when it was a Roman city and before that it was "Lowonidonjon " in a pre-Celtic language which means "flowing river". London means "flowing river", how beautiful!
What Is London famous for? 
London Location - How far is London From Other UK Major Cities?
London is located in the southeastern part of England, with a 50mi distance view of the River Thames estuary. The distance from London to some of the highly known UK cities is: 
29mi - 46km to Camberley, United Kingdom

38mi - 61km to Reading, United Kingdom

46mi - 74km to Milton Keynes, United Kingdom

69mi - 111km to Southampton, United Kingdom

88mi - 141km to Coventry, United Kingdom

90mi - 144km to Leicester, United Kingdom

102mi - 164km to Birmingham, United Kingdom

106mi - 170km to Bristol, United Kingdom

110mi - 177km to Nottingham, United Kingdom
Why Book Student Accommodation in London?
As an international student in London, you will feel right at home. London has an estimated 300 languages spoken in the Greater London region alone. The student population in London has exceeded 100,000, including people who come from 200 different nations from all over the world. It attracts more tourists every year than any other city in the world and that is evidence of London's attractiveness on a global scale. More than 20 million tourists visit London every year (over 50,000 per day) which also makes London's airport network the busiest in the world. Having your student accommodation in London will be quite the dream, enjoy every minute of it! 
London Climate
Weather and Temperature
London's average temperature is around 11.1 °C throughout the year. It's considered to be temperate; however, coming from a tropical country, London will be quite cold. Rainfall is heavily present throughout the year with the driest month being February and the heaviest being November. Winter months are really cold with January being the coldest of them with an average temperature of 4.9 °C. The highest temperature is in July with an average temperature of 18.7 °C. The city has a unique beauty in every season. It's important for students to have heavy jackets and rain clothes since cloudy weather and light rain are dominant throughout the year. Accuweather London is a great student reference for daily weather in London and climate-data.org is another good website for checking the overall climate when travelling to somewhere new or unfamiliar. 
What to Pack and London Local Timing
Cold weather means one to two jackets for daily wear, waterproof pieces to get through the rainy days, wool padded gloves for those freezing hands, thermals, scarfs, and ear covers; all of this will be necessary for a day to day wear. If coming from a tropical country, keep in mind that you'll probably need a whole wardrobe makeover to get through your school years as warm as possible. GMT is London's local timing so you need to keep this in mind when booking your travels and student accommodation in London.
London Lifestyle
The enviable history of London is about 2000 years old. The Romans founded London in the year AD 43 and referred to it as Londinium. London city is well-known to be the biggest financial hub on a global scale. It generates more business, money, and wealth than any other city in Europe making it a great place for employment. It boasts culture, education, entertainment, business, fashion, lifestyle, sports, healthcare, and, of course, safety.
Is London a good place to live?
Studying in London is a great step for an international student such as yourself. London is among the best student cities in the UK and globally as well. As the largest city in England and the UK, the capital is popular for being culturally diverse. Easy access and luxurious facilities are inevitable in London, so is the expensive cost of living!   
Is living in London Expensive?
London is on the expensive side, not actually on, it's THE expensive side of all UK cities; when you compare the cost of living for any other city, London is always the more expensive one. It's inevitable that London will cost you more and being on a budget while living in it will feel like being offered a gigantic feast every day and you are fasting! Ouch! But, let us say, money management is always the key to such an expensive city and having fun during your school years doesn't always have to be about having enough money.
What are Some Must-Visit Places in London?
Many people come to visit London's attractions and cultural sites including the greatest collection of galleries and museums on the planet as well as historical sites like the Tower of London, Buckingham Palace, St Paul's Cathedral, and hundreds more. Students will find many amazing places to visit in London for free.
Universities in London 
London was ranked as the best city worldwide for university students in 2018. Furthermore, it is home to 4 universities that are ranked among the 40 top universities in the world: Imperial College London, University College London (UCL), London School of Economics and Political Science, and King's College London. Other top universities are London South Bank University, Middlesex University, University of London, University of the Arts London, London Metropolitan University, and many others.
Transportation In London
The massive underground network is perfect to get around London and it's referred to as the Tube. Students will enjoy having a Student Oyster Travel Card which is a sort of contactless card used for the underground and buses with discounted rates for students. Walking and cycling are great ways to explore the city as well. 
Railway (Terminal) Stations in London
Total of 17 terminal stations are spread across London, here is a list: 
Blackfriars

Cannon Street

Charing Cross

Euston

Fenchurch Street

Kings Cross

Liverpool Street

London Bridge

Marylebone 

Moorgate

Paddington

St Pancras International

Victoria

Waterloo

City Thameslink

Vauxhall

Waterloo East
Nearest Airport to London 
London City Airport - 7mi/12km.

London Heathrow Airport - 14mi/23km.

London Gatwick Airport - 25mi/40km.

London Luton Airport - 27mi/43km.

London Stansted Airport - 30mi/48km.

Southend Airport - 35mi/56km.
Casita's Informative Blogs About London 
Living in London as a student will be the best experience on every level. Here are some of our London-related blogs: 12 Interesting Facts about London, 5 Best Flea & Street Markets in London, Hidden Spots in London You Never Knew,  part-time student jobs, Top Study Locations in London.
Famous Areas and Neighbourhoods For Student Accommodation in London 
Euston, Tottenham, Islington, Blackhorse Lane Walthamstow, Stratford, Kings Cross, Westminster, Tottenham Hale, Waterloo Road, Bethnal Green, Islington, Clerkenwell.             
Other Student Accommodation In UK
Besides having facilities for student accommodation in London, Casita offers student accommodation in these UK cities: 
Birmingham, Glasgow, Liverpool, Edinburgh, Manchester, Aberystwyth, Aberdeen, Bangor, Belfast, Bradford, Bath, Brighton, Bedford, Bournemouth, Bristol, Cambridge, Carlisle, Colchester, Canterbury, Cheltenham, Coventry, Cardiff, Chester, Derby, Dundee, Durham, Egham, Exeter, Falmouth, Gloucester, Guildford, Hatfield, Huddersfield, Hull, Ipswich, Kingston, Lancaster, Lincoln, Loughborough, Leeds, Luton, Leicester, Medway, Newcastle, Norwich, Newcastle under Lyme, Nottingham, Newport, Oxford, Plymouth, Portsmouth, Preston, Reading, Salford, Stirling, Sunderland, Sheffield, Stockton on tees, Swansea, Southampton, Stoke, Winchester, Wrexham, Wolverhampton, Worcester, York.  
Frequently Asked Questions:
What is the average rent for student accommodation in London?
The average rent for a student accommodation in London is between £200 and £400 per week. The closer you are to your university the higher the rent is; therefore, if you want an affordable room in London, you might need to choose a room away from your chosen university.
How long can you stay in student accommodation in London?
Typical contracts start from 40 weeks and could last till 52 weeks; still, If you wish to stay for only a couple of weeks, some providers offer flexible and short-term stays for higher rates.
What are the facilities I can find in my accommodation?
Many student accommodation in London have free Wi-Fi services, all-inclusive bills, laundry services, communal areas, and even gyms.
Can I pay in installments for a student accommodation in London?
Most of the buildings in London offer installment options for students; however, the conditions for these installments differ from one building to another. You will need to check the cancellation and payment policies underneath your property for accurate information about that.
When should I book a London student accommodation?
If you are a first year student, it is better to prepare for your accommodation early. Start researching after filling your UCAS application to book a student accommodation upon receiving an offer.