from
£293.00 Per Week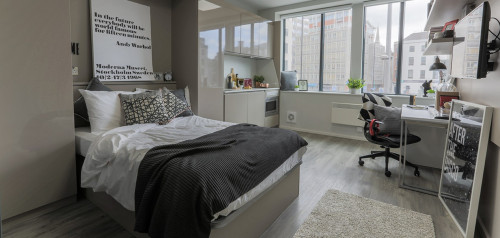 Vita Bristol Colston Avenue in Bristol
It is a 10-minute walk away from both the city centre and the University of Bristol. It is also a 17-minute bus ride to the University of the West of England. It is located in a vibrant neighbourhood with various green spaces nearby. Here you will be in the centre of all the open spaces and parks to perform various activities and enjoy the green scenery.

​
About Vita Bristol Colston Avenue
Castle Park is less than 10 minutes away and you can easily reach various attractions while living here. Colston Hall is less than 2 minutes away and around the neighbourhood, you can reach Bristol Museum and Art Gallery, Bristol Cathedral, Cabot Tower, Georgian House Museum, and various other attractions.
This Bristol student building offers a 24/7 on-site team that is available to help with whatever you might need, PlayStation 4 hub, membership to the on-site gym, a free grab-to-go breakfast every weekday, and all utility bills are included as well as a complimentary weekly cleaning service. The building also has 250Mb broadband with Wi-Fi internet access in each apartment, 24/7 security and safe and secure key fob entry system.
The rooms are self-contained with fully-integrated kitchen packs including all utensils, plates and cutlery needed, en-suite shower rooms, Egyptian cotton beddings, and 32" SMART TVs with 250Mb broadband with Wi-Fi internet access in each apartment. Also, there is a 24/7 security as well as safe and secure key fob entry system.
**Please note that the £350 deposit will not be paid at the time of booking. When a booking is made, an advance rental payment will take place (equal to 2 weeks rent) and this amount will be later deducted from the 1st instalment. As for the £350 security deposit, it will be paid with the 1st instalment and act as cover for any damages that may occur during the tenancy period. It will be refunded subject to any potential damages.
**If cancellation takes place outside the cool off period (5 days), a refund of the 2 weeks advance payment will not take place. If cancellation takes place when the student has fully paid for everything and they are outside their cool off period, then they need to find a replacement student. This replacement will need to pay their 2 weeks advance rent and a security deposit with the 1st instalment. Once the replacement is done, the original student will receive a refund of the £350 deposit and a refund of the rent minus the 2 weeks advance rent; the 2 weeks advance rent will not be refunded.
**The payment date on any bookings is August 1st, 2019.
Rooms
Please browse the types of rooms we offer and choose the one you like.
Note: Price and availability are subject to change at any moment by the provider
Enquire Now ---- for -- Weeks Start Date: --/--/---- End Date: --/--/----
Payment
International students can pay in 2 instalments for long-term bookings without a UK guarantor (one in August and the other in January).
Cancellation Policy
We allow a 14-day cooling off period after paying the deposit if a studio is booked prior to 17 July.
After the 17 July, the cooling off period becomes 48 hours. If you cancel within 14 days (or 48 hours after 17 July), the account that paid the deposit will be given a full refund. Once you have booked and the 14 days have passed (or 48 hours after 17 July), you are bound into a legal licence agreement which requires you to pay the rent for the full period of the licence agreement.
We suggest if you are unsure about exam results, receiving your visa or other condition on you attending University that you do not book until you are sure.
After booking and the expiry of the 14 days (or 48 hours after 17 July), the only way to release yourself is to find a replacement tenant who will take on the full rent contract.
BPP Study Centre, Bristol
EF International Language School Bristol
International House Bristol
The Bristol Language Centre (BLC)
The English Language Centre Bristol
University of Law - Bristol
University of the West of England (UWE), Bristol's International College
University of the West of England, Bristol